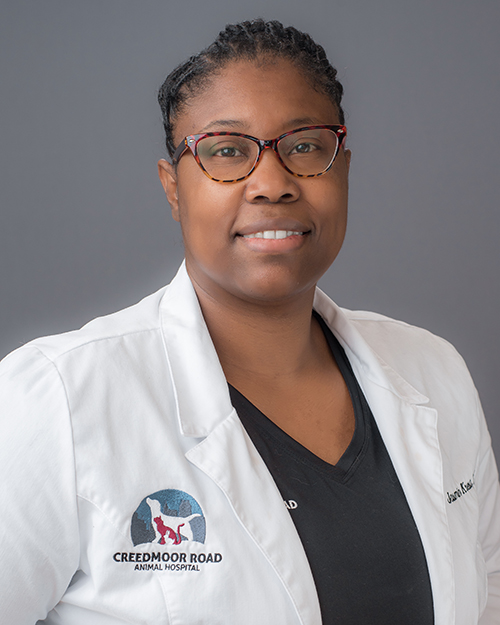 Jasmin
Wellness Nurse
Bio coming soon!
Samantha, CVT
Technician
Samantha Porrazzo joined our team in May 2019. As our Technician Supervisor, she has been a valuable asset to us because she comes with many years of experience. She graduated from Central Carolina Community College with her Associate of Applied Science in Veterinary Technology and has a plethora of knowledge in surgery, anesthesia, emergency care, hospitalization, and general wellness. In addition to helping animals at our practice, Samantha also works tirelessly coaching, scheduling, and directing our technical staff to be the absolute best they can be. She is truly dedicated to this field, and it shines through her passion, and work ethic every day. She has a great personality, and she keeps our staff laughing in the back, while still making sure that you and your pet are extremely cared for.
When she's not working, Sam enjoys spending time with her wife Ashley, eating sushi, going to the beach, spending time with her family, and her two fur babies, a dachshund named Reynolds, and her black Lab mix Sophie.
Alex
Animal Care Technician
Bio coming soon!
Jamika
Animal Care Technician
Bio coming soon!
Shannon
Practice Manager
Shannon McCorkle joined our team recently as our Veterinary Practice Manager and has been in veterinary medicine for over 20 years, as a veterinary technician in both general practice and critical care. She is passionate about exemplary client care and elevating the knowledge base for the technical staff.
Shannon also holds a bachelor's in art (BA). Her work includes multimedia art forms such as illustration, print work, & photography. In her spare time, you will find Shannon hiking or roller skating, cooking, and listening to records. She also keeps a backyard flock of chickens, has a Cattle Dog named Dexter (not after the TV show), and a cat named Mimma.
Hannah
Client Care Supervisor
Hannah Jones joined our team in May 2019 after working in veterinary medicine for five years as a Client Care Representative. She has worked in the customer service industry for almost 20 years and she loves building relationships with you and your pet. Hannah has a good heart, a genuine love for animals, and you will always see her wearing a shining smile and a great personality. She performed as a licensed massage therapist prior to working in the veterinary field which makes her a great asset to understanding canine rehabilitation. Her favorite places to visit are the mountains and the beach. She spends her time with her fiance Jason, her son Maddox, and her Spinx cat Oxsana.
Sophie
Client Care Representative
Sophie joined the team as a Client Care Representative in July 2020 after several years working in retail customer service and management. While she enjoyed her previous work, she left in order to gain new experiences and work with animals which has always been a dream of hers.
She graduated in May 2020 from NC State with a Bachelors in Sociology as well as a minor in Spanish Language (te puede ayudar en español!). She loves helping others to the best of her ability and will devote her time at work to making you and your pets' experience positive and fun. Sophie has a huge soft spot for animals and has spent time volunteering for animal rescue groups since she was young, giving her experience in how to make animals from all kinds of backgrounds feel comfortable and safe.
When she's not at work, Sophie enjoys watching movies, drawing, and spending time with her family, friends, boyfriend, and above all her elderly pup Donald.
Ashli
Client Care Specialist
Bio coming soon!
Devyn
Client Care Specialist
Bio coming soon!