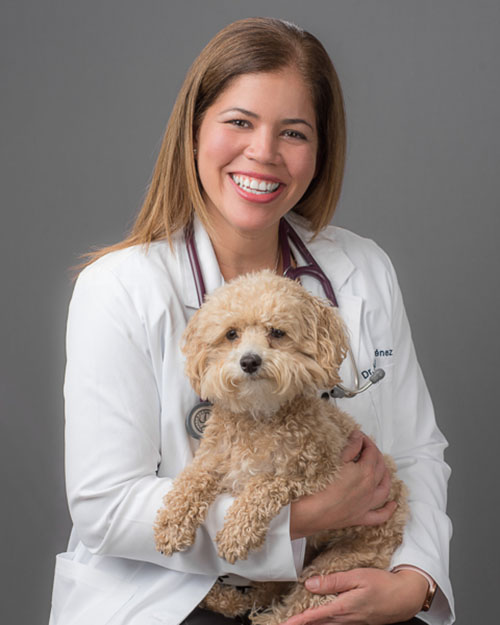 Dr. Arlene Jimenez
DVM
Dr. Jimenez has been practicing veterinary medicine in Miami, Florida over 12 years. Her family is very excited to relocate back to the Raleigh area and experience beautiful North Carolina. She is happy to join the wonderful team of Creedmoor Road Animal Hospital as a bilingual Veterinarian. She is ready to help our patients live their best lives while developing meaningful relationships with families and their pets.
Dr. Jimenez grew up in San Juan, Puerto Rico, where her love of animals began early in life. Her childhood was spent caring for a variety of animals from dogs and cats to birds with her grandfather. As a youth, she also volunteered with her mother assisting in an elderly facility.
Dr. Jimenez graduated with honors from Iowa State University for her undergraduate education in 2004 and completed her veterinary degree with North Carolina State University-College of Veterinary Medicine in 2009. She previously had a "Small Animal Rotating Surgery and Medicine Internship" in Coral Spring Animal Hospital from 2009-2010. Her professional interests include proactive wellness care, internal medicine, geriatric care, and a special interest in dermatology.
Dr. Jimenez married her high school sweetheart in 2007. They currently have 2 beautiful children, Valeria and Noah. In her spare time, she enjoys spending time with her family, going on outdoor adventures, and relaxing at the beach.
Dr. Timothy Jordan
Owner / Veterinarian
Dr. Timothy Jordan has been a practicing veterinarian for over 35 years and has worked with both large and small veterinary practices. He also currently owns and has previously owned several veterinary practices, modernizing their care and service to meet the needs of the communities they serve.
Dr. Jordan has a passion for veterinary surgery and has completed advanced training to further his surgical skills and techniques. He has now performed over 3,000 different orthopedic procedures and can offer colleagues and pet owners alike an insight into the possible options and outcomes of many orthopedic and soft tissue problems encountered in a veterinary practice.
Dr. Christen Ragle
DVM
Dr. Ragle has known veterinary medicine was her calling for quite some time—she's been working in vet hospitals since 2006, and earned her DVM from St. George's University in 2015. She has a special interest in internal medicine, soft tissue surgery and puppy training.
After living in the Caribbean for three years, Dr. Ragle scuba dives and loves and travel. When she's not seeing patients, she enjoys spending time with her three rescue dogs—a beagle, a Plott hound and a Newfoundland.
When Dr. Ragle is not saving the lives of animals or hanging with her pets, she makes fancy decorated cakes as a hobby. She also enjoys traveling and kayaking when the weather is nice.